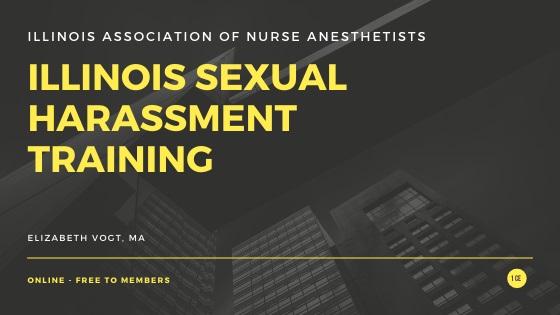 Click on the video above to begin training or go to https://youtu.be/AyUQ5HRWexA
Post-Test
To receive 1 credit, learner must receive a minimum score of 80% on the post-test. Only 1 attempt is permitted to reach 80% score.
IL Sexual Harassment Training Post-Test

Evaluation
You must complete this evaluation in order to receive 1 CE credit.
IL Sexual Harassment Training Evaluation

The State of Illinois now requires all persons who hold a professional license issued by IDFPR to complete a one-hour course in sexual harassment training. Click here for the administrative rules.

This program has been prior approved by the American Association of Nurse Anesthesiology for 1.00 Class A CE credits; Code Number 1041966; Expiration Date 2/28/2023.

The video hosted on YouTube.
Each subscriber must provide their individually assigned log-in credentials. The activity is a self-paced presentation with visuals and audio.  The online-module order is as follows
1)Learning Activity
2)Post-test 
3)Learner Self Evaluation 

All components of the activity are taken online. The assessment and post-test remains locked until the learning module is completed. To receive credit, participants must (1) read the target audience, learning objectives, and disclosure statements, (2) complete the educational activity online, and (3) complete the post-test and activity evaluation. 

It is estimated that this activity will take approximately 1 hour to complete. To receive 1 credit, learner must receive a minimum score of 80% on the post-test. Only 1 attempt is permitted to reach 80% score. 

Upon successful completion of this learning activity,  post-test & learner self evaluation, you will receive an emailed certificate in 14-21 business days.

Target Audience:
CRNAs and SRNAs

Disclosures: 
Individuals involved in the planning, reviewing or execution of this activity have indicated they have no relevant financial relationships to disclose.
Description and Objectives

This training provides an overview of sexual harassment in and out of the workplace. It identifies four main objectives:
1.Define sexual harassment, including its forms and types;
2.Identify how to respond if you experience or witness unwelcome sexual harassment;
3.Identify how to report sexual harassment within your place of employment and to outside entities such as the Illinois Department of Human Rights; and
4.Understand whistleblower protections.